C0rrupt3d
Back again from a long hiatus. Will probably be sticking around this time. I've missed Ichu so much!

Current goals are to catch up on avatars and collections. Another goal is to level Pandia so I can turn her into a Vinali :) Wanna help? Play with her! Leave a comment and I'll play back.

If you have time, can you help me level up these ichies as well? I need the evolved forms for my gallery! Thanks :-)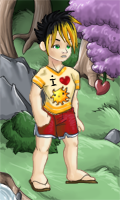 C0rrupt3d
Gender:
Female
Discovered:
2009-01-30 (ID# 12468)
Pages Explored:
669,372
Forum Posts:
307
Job:
Trainer (Level 14)
Premium:
No
Warning:
0%
Shop:
TidBits N WhatNots
Gallery:
Ravens Treasures
Blog:
To Blog Or Not To Blog
Council:
The Friendly Friends of Friendship
Homepage:
No Page
This user has no YouTube video displayed.
User Trophies:

The Missing Reporter
Daring Detective
(2,396)


Corek Strikes Back
(2,250)
---
| | |
| --- | --- |
| Malvagio Slayer | Ichumon Year 1 Puzzle Collector |
---

Master Quest
(110)


Premium


Mission #9 in Guardians Of Ichua


Lightning Houses
(181)
---

1st place in Fishing Quests


1st place in Top Poster


1st place in Ichu Memory


2nd place in Ichu Staff Say


1st place in The Rarity Game


3rd place in Under The Rock


3rd place in Avatar Collector


2nd place in IchuCard Collector


2nd place in Higher Or Lower


1st place in Calista's Treasures


2nd place in Plushie Drive


1st place in Toy Collector


1st place in Tyes Ticket Quest


1st place in The Shredder


1st place in Furniture Quests


1st place in Corek Quests


3rd place in Job Quester


1st place in Dr Dim Quests


1st place in Council Quests


1st place in Lightning Houses


1st place in Rare Food Collector


2nd place in Snubbu's Sno-Gro


2nd place in Book Collector
---
| | | | |
| --- | --- | --- | --- |
| 2009 Member | 2010 Member | 2011 Member | 2012 Member |
Master Quest Pins (7):