QueenGG
Hello, I am Queenie. I love to meet new people and chit chat, so if you see me online don't be afraid to stop by and say hi! If you play with my ichies while you're here just let me know, and I'll return the favor. You are most likely to find me rummaging through the mushroom shops looking for any customs/rares to add to my ever growing collection. I have rares/customs duplicates in my *FOR SALE/TRADE* room of my gallery, go ahead take a look.

I am always chasing down the items on my WL, if you have any of those up for sale/trade PLEASE message me, I'm sure we can strike up a deal.

Currently I am working towards knocking out some of these avvies that I have yet to get. I have a Buying/Lending/Borrowing thread in Avvie Forums, I would be ever so grateful to anyone who helps me cross some off of my list.!

Also, I just need a few more pieces to each of the (non event) puzzles. All pieces still needed are on my WL, want to sell me some??

Thanks for stopping by!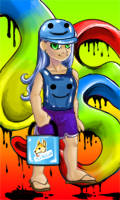 QueenGG
Gender:
Female
Discovered:
2017-03-02 (ID# 41372)
Pages Explored:
291,410
Forum Posts:
64
Job:
Craftsman (Level 18)
Premium:
No
Warning:
0%
Shop:
Queens Curio
Gallery:
My Treasures
Blog:
No Blog
Council:
Splash
Homepage:
No Page
User Titles:
Restocker x2
Quester x2
Gamer
Champion
Buddies (13):



qnb733




Fire_Leech




meadowopossum




Bacon




Loveless




Dank




Kathy




Saphire




Driygon




Roshi




canaryika




sumin9358




Sirmarks
This user has no YouTube video displayed.
User Trophies:
| | | | |
| --- | --- | --- | --- |
| Ichumon Y9 Puzzle Collector | Persona Of The Week Winner x2 | Journeyman Stamp Collector | Bingo Winner x2 |
---

Lightning Houses
(267)


Master Quest
(162)
---

1st place in Tyes Ticket Quest


1st place in Nobody Knows


1st place in Rare Food Collector


2nd place in Council Quests


2nd place in Candy Corn Collect


1st place in Snubbu's Sno-Gro


Ichu Lottery x4


1st place in Restock Race


3rd place in Giant Egg of Doom


1st place in Gamble


3rd place in What Am I


3rd place in Restock Race


2nd place in Toy Collector


1st place in Calista's Treasures


1st place in Ichu Staff Say


1st place in Plushie Collector


1st place in Book Collector


1st place in Ichu Race


1st place in OMG Apples


2nd place in Corek Quests


1st place in Leaping Leepras


1st place in Job Quester


1st place in Fire, Earth and Water


1st place in Bone Snatcher


2nd place in Breakout


1st place in Top Poster


1st place in Furniture Quests


1st place in The Rarity Game


2nd place in Capture The Flag


1st place in Money Grabbing


1st place in Higher Or Lower


2nd place in Avatar Collector


1st place in Dr Dim Quests


2nd place in Snake


1st place in The Shredder


1st place in Guess The Number


1st place in Lightning Houses


1st place in Twenty One


1st place in Under The Rock


1st place in Holey Moley


1st place in Turkey Bowling


1st place in Hungry Kopie


2nd place in Stinger Shot


1st place in Ichu Memory


1st place in Fishing Quests
---

2017 Member
Master Quest Pins (10):