QueenGG
Hello, I am Queenie. I am still fairly new to Ichua, but I already love it so much. Mostly I spend my time on here restocking and collecting rare/custom items. I have a FOR SALE sub gallery that you are more than welcome to check out, any other room is not for sale so please DO NOT ask. I also have quite a few avvie items for lending in there, mail me if you need to borrow any of them. I'm always ready to make a new friend so mail me even if you are just bored! Also, if you play with my ichies just drop me a comment and I'll returm the favor! Thanks for stopping by!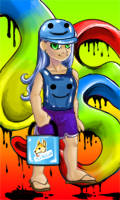 QueenGG
Gender:
Female
Discovered:
2017-03-02 (ID# 41372)
Pages Explored:
79,433
Forum Posts:
12
Job:
Craftsman (Level 10)
Premium:
No
Warning:
0%
Shop:
Queens Aisle
Gallery:
My Treasures
Blog:
No Blog
Council:
Splash
Homepage:
No Page
Buddies (5):
| | | | | |
| --- | --- | --- | --- | --- |
| canaryika | TheHadoTwins | Roshi | Kathy | Dank |
This user has no YouTube video displayed.
User Trophies:

Apprentice Stamp Collector
---

Master Quest
(115)


Lightning Houses
(131)
---

1st place in Holey Moley


3rd place in Under The Rock


1st place in Twenty One


1st place in Lightning Houses


1st place in Guess The Number


1st place in The Shredder


2nd place in Job Quester


2nd place in Leaping Leepras


3rd place in Corek Quests


Ichu Lottery


1st place in Tyes Ticket Quest


1st place in Restock Race


2nd place in Turkey Bowling


1st place in Hungry Kopie


2nd place in Stinger Shot


2nd place in Avatar Collector


1st place in Higher Or Lower


1st place in Money Grabbing


2nd place in Capture The Flag


2nd place in The Rarity Game


1st place in Furniture Quests


1st place in Top Poster


2nd place in Breakout


1st place in Bone Snatcher


2nd place in Fire, Earth and Water


2nd place in Dr Dim Quests


2nd place in Snake


2nd place in Ichu Memory


1st place in Fishing Quests
---
Master Quest Pins (7):